Planning to backpack the East Coast of Australia? It is easily one of the most popular traveller routes in the world, and for good reason! It has it all from world-famous beaches, bustling cities and stunning wildlife. For those planning on travelling Australia's East Coast on a tight budget or timescale, here is my East Coast Australia Mini Guide featuring some of the tried and tested highlights of this iconic backpacker route.
A Mini Guide to Australia's East Coast
Sydney is a great place to start off your East Coast Australia adventure. Explore the city and the popular tourist hotspots including the Sydney Harbour Bridge, Royal Botanic Gardens and Sydney Opera House. Once you've explored the heart of Sydney, try heading further afield into Manly or to Bondi Beach for stunning beaches and beautiful scenery.
Top four things to do in and around Sydney:
Climb the Sydney Harbour Bridge and get the best view of the Opera House, night or day
Take a trip to the famous Blue Mountains National Park
Uncover the amazing beaches along the Bondi Beach to Coogee Coastal Walk
Jump on a ferry and spend the day exploring Manly and Taronga Zoo.
Great place to eat: Moo Gourmet Burgers (Bondi Beach) – The BEST halloumi burger I've ever had! I highly recommend giving their food a try either before or after the coastal walk, you won't be disappointed.
Exploring Melbourne and Great Ocean Road
Melbourne is the artistic, bohemian sister of Sydney – you could say it's a love it or hate it Marmite kind of situation. This is the place for backpackers to experience cheap (but surprisingly good) coffee, eccentric displays of graffiti, and live music (buskers count, right?) and cuisines to suit every budget.  Don't miss out on:
The best 360° views of the city from the 88th floor of the Eureka Skydeck
An afternoon in Melbourne's Royal Botanical Gardens (for a backpacker-friendly price of $0)
St Kilda Pier (after sunset) to see the colony of little penguins.
READ: My Favourite Places in Melbourne
Great places to eat in Melbourne:
Rice Paper Scissors (Liverpool Street)  – Definitely not the cheapest but well worth it. Imagine rustic vibes, a buzzing atmosphere and amazing Southeast Asian food – yep, that's this place in one. Make sure you book in advance as it's no secret in the city!
The Hardware Societe (Hardware Street) – There are many reasons why so many people queue down the street to eat breakfast/lunch here. It's chic, it's cosy and most importantly, the food is divine. Get there early!
Great Ocean Road
Driving the Great Ocean Road from Melbourne is the best way of seeing the sights at your own pace and can save you a ton of money.  To help keeps costs down, I recommend good old fashioned camping and splitting the car rental price between a few friends. After all, your trip won't be complete until you've practically lived in a tent, campervan or car for at least 48 hours.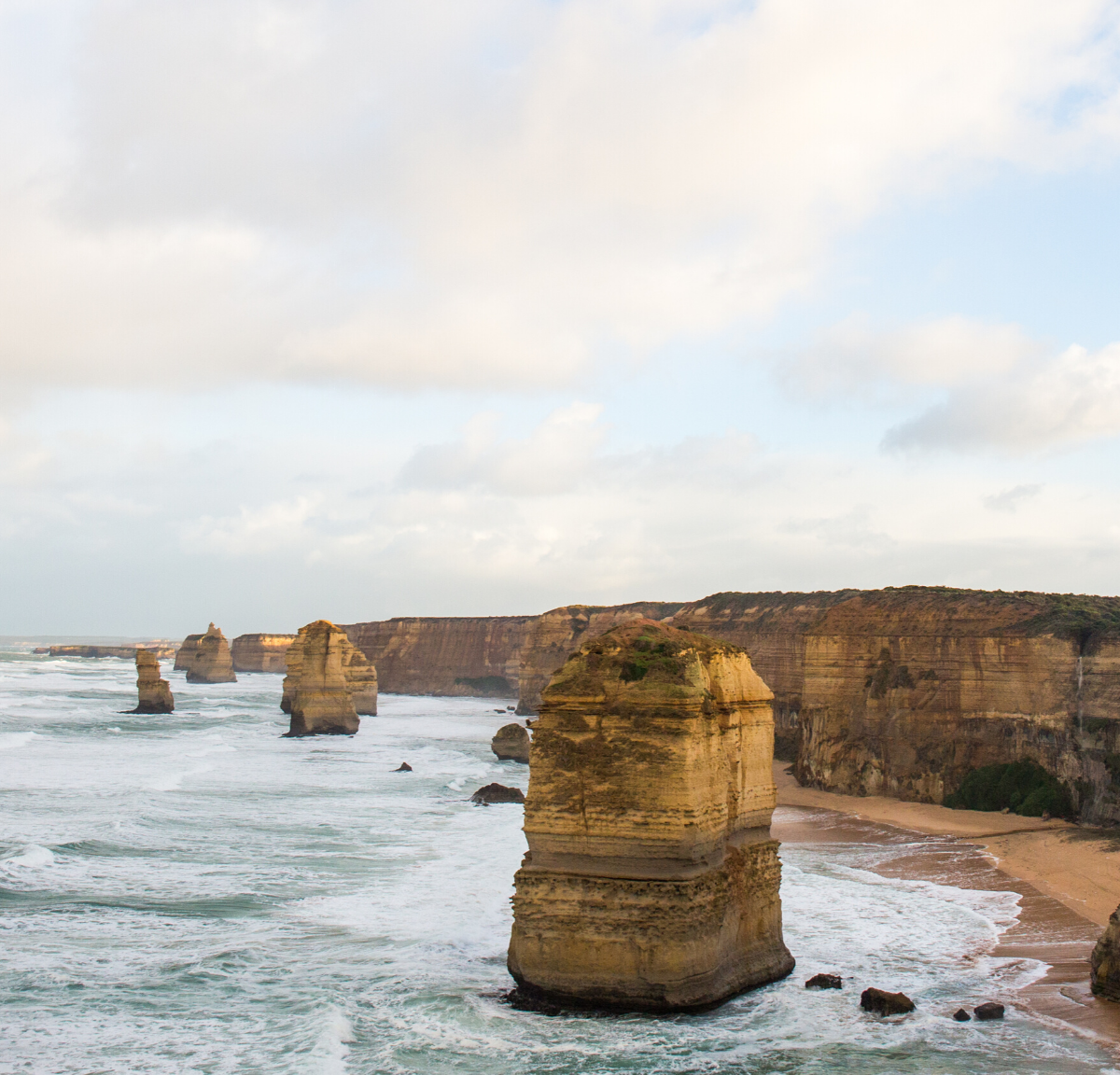 Cairns – The Great Barrier Reef and the Atherton Tablelands
It goes without saying that a diving/snorkelling or flight tour out to the famous Great Barrier Reef should not be missed while in Cairns. But I also recommend you look beyond the hype of the ocean and consider what's happening on dry land too.
Booking onto Uncle Brian's Fun, Falls and Forest Tour to explore the Atherton Tablelands Region is a day truly well spent and one you won't forget in a hurry. Experience some of the beautiful rainforests, waterfalls, lakes and countryside that Queensland has to offer plus meet great people at the same time. It really would be rude not to indulge when visiting the tropical climates of Aus so take a swim in the waterfalls, sunbath and enjoy the relaxed party atmosphere.
Backpacker hostels in Cairns
Many of the hostels in Cairns cater for the backpacker party scene however if you're looking for something a bit different (or quieter), try the Cairns Central YHA .It's great for: backpackers, families, couples, booking activities, central location and self-catering facilities.
READ: The Dos and Don'ts of Hostel Life
Surfing Lessons in Byron Bay
Known by backpackers as a small surf town inspired by hippies, Byron Bay is a funky spot to kick back and watch the world go by. This unique location has a bit of everything for everyone – a nightclub, shops, restaurants offering a whole host of multi-cultural cuisines, a beautiful beach and bars with perfect ocean views. But of course, don't forget to get the all-important surfing lesson ticked off your bucket list. Whether you manage to stand up on the board is another matter entirely (there's no judgements here.)
The best backpacker hostel in Byron Bay
Arts Factory Lodge (Great for backpackers, couples, booking activities, tipis and laid-back party vibes.)
Rainbow Beach – The Gateway to Fraser Island
Get away from the hustle and bustle of the East Coast and spend a few days touring the world's largest sand island by 4WD. I stayed in Rainbow Beach before I set off and booked my Fraser Island tour through the hostel.
Despite its rural location, Fraser Island has more than enough activities to keep you distracted from the mountain of sand building up in your rucksack. If driving 4×4's on the beach, swimming in clear blue waters and eating BBQ dinners every night sounds good to you then don't miss out on a trip here.
Backpacker hostel in Rainbow Beach
Dingos Resort (Great for: backpackers heading out to Fraser Island, party atmosphere, free pancake breakfast and booking activities.) A range of Fraser Island trips depart daily from Dingos Resort.
Getting around on Australia's East Coast
Many choose to adventure through the bus services run by Greyhound and Premier – this can often be the cheapest option as they both offer flexible, open dated passes and stop at all the essential tourist hotspots. However, be extra mindful of the timetables as they don't wait around and, in some locations, will only offer one service daily.
BUDGET TIP – I found a three-month Premier bus pass to be the cheapest and the service was great for what I needed.
But if buses really aren't your thing then consider hiring a camper from the many rental companies featured all the way up the coast. Some of the popular companies include:
So that just about wraps up this travelling mini guide. If there's one thing I know about East Coast Australia, it's that it won't leave you bored or struggling for things to do!
More Australia & Travel Blogs
Review: My stay at Cairns Central YHA
My First Night in Sydney, Australia
---
Pin it for later