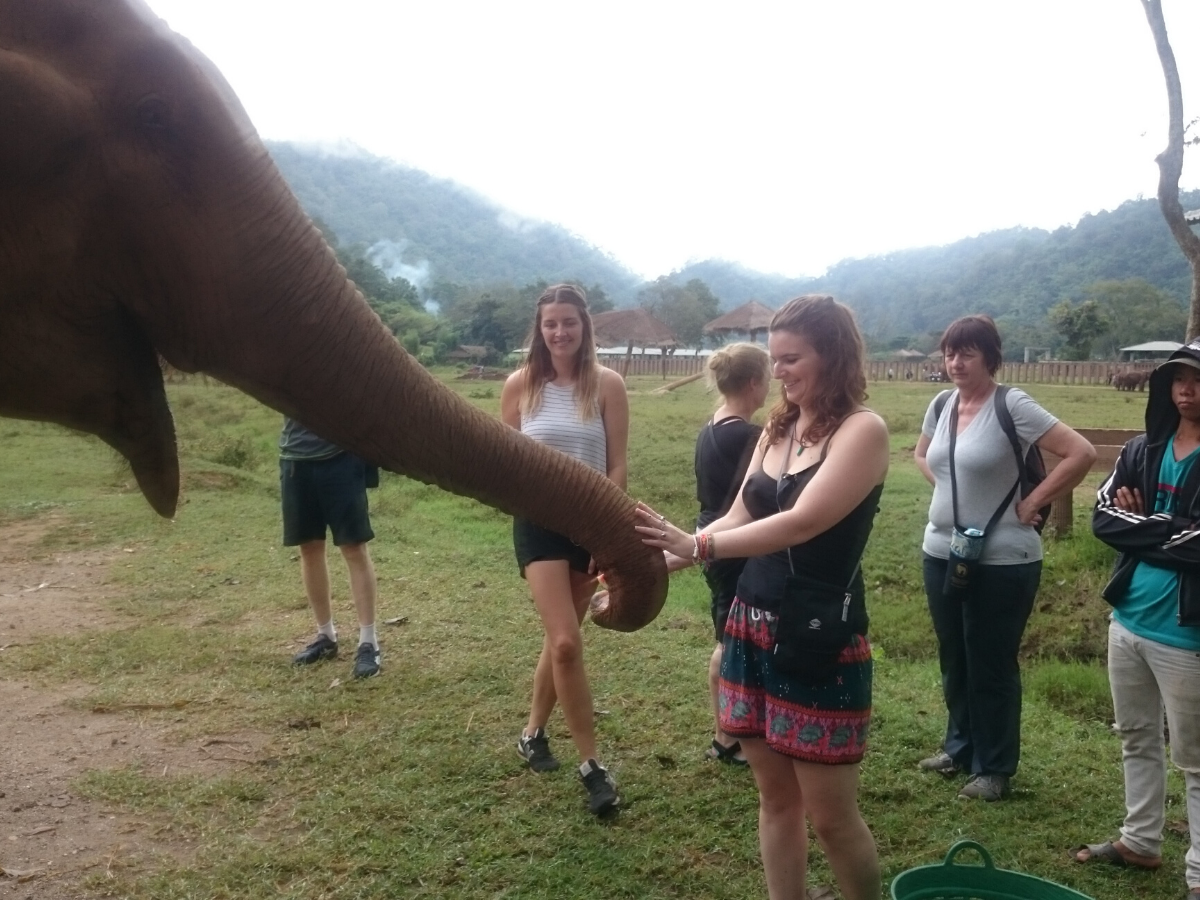 Out of all the bucket list things to do in Thailand, volunteering with elephants is up there as the most rewarding and unforgettable. I spent a week as a volunteer at Elephant Nature Park, one of the best elephant sanctuaries in Chiang Mai.
If you want to become an elephant sanctuary volunteer and make a difference to ethical animal tourism, read about my experience and why I recommend Elephant Nature Park.
Here's my complete guide to volunteering with elephants including what to expect and why you should become an elephant sanctuary volunteer.
About Elephant Nature Park
Elephant Nature Park rescue and rehabilitate elephants from all over Thailand that have been abused through street begging, illegal logging and tourism activities such as elephant trekking or riding.
Elephant Nature Park was founded by animal lover Sangdeaun 'Lek' Chailert in 1996.
Located 37 miles from Chiang Mai, the 250-acre park is home to over 70 Asian elephants and other species including dogs, cats and buffalo.
Lek explains the joy she gets from caring for the elephants:
"I love it when I see their suffering come out and they become playful"
The project also serves as an education centre for elephant conservation, rainforest restoration and community projects.
Elephant tourism in Southeast Asia: The ugly truth
Sadly, many elephants in Southeast Asia are abused and forced to work in tourism.
If they are not being poached for their ivory, it is commonplace for elephants to be used for activities like elephant trekking, street begging, circus entertainment, elephant painting and logging.
Hearing the elephant's stories broke my heart. Some had scars and some were too nervous to be around anyone other than their mahout (keeper).
We were told that one female elephant had been blinded from sling shots to her face, another had suffered a broken hip from logging work. One had even lost half of her foot from stepping on a landmine whilst working.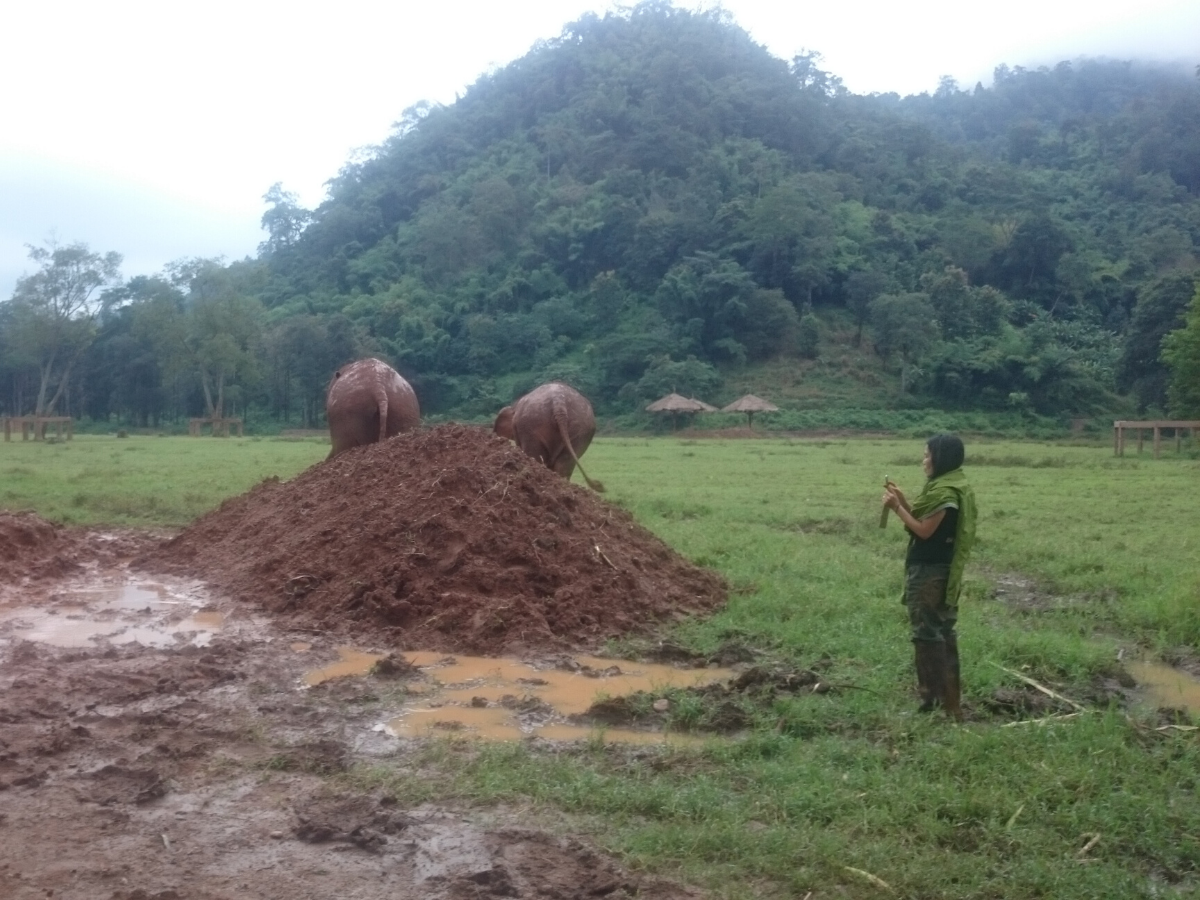 Although Lek has now rescued over 70 elephants, she tells me that the grounds of the park are still surrounded by camps that promote and sell elephant rides.
In order to be trained for riding, calves are often separated from their mothers and other adult females (usually called nannies).
Wild elephants then endure weeks of torture to 'mentally break' and tame them. This process is called 'phajaan' (otherwise known as elephant crushing.)
"Today you might have seen that one of our elephants tried to cross the river because they are training baby elephants in the camp up there. The babies suffer without their mother," Lek explains.
"Our female elephants here are very upset," she added.
Lek believes that social media and word of mouth can help stamp out the abuse of elephants in the tourism industries.
"You have the most powerful tool in your hands…It is social media. Use social media to go and spread the word," she urged.
How to know if an elephant sanctuary is ethical
If you want to volunteer with elephants, it's important to do your research before you sign up. Here are a few pointers to help you find an ethical elephant sanctuary in Thailand.
Elephants in chains
Do any of the elephants have chains around their feet or necks? An ethical elephant sanctuary should encourage the elephants to socialise and walk around free in large spaces.
Elephant riding
Does the camp promote any kind of elephant riding? No matter what anyone says, elephant riding of any kind (including bareback riding) is not a good sign.
Elephant body language
Elephants are extremely intelligent and just like us, show how they're feeling through their body language. Signs of stress in elephants can include wide open eyes, rigid tails, head shakes, rocking back and forth or aggressive displays.
On the other hand, here how's to tell if an elephant is happy and healthy:
Tail swishing
Half-closed, sleepy eyes (a sign of relaxation)
Regular eating and drinking (anywhere between 200-600 pounds of food and 50 gallons of water per day!)
Flapping ears
The tip of their trunk is wet or moist
Is Elephant Nature Park ethical?
Yes, Elephant Nature Park is recognised all over the world as one of the most ethical elephant sanctuaries in Thailand. It is supported by Save Elephant Foundation, a Thai non-profit organisation dedicated to protecting Asian elephants.
It is a chain-free sanctuary meaning that the female elephants are encouraged to socialise with each other and roam the park as they please.
The elephants are never forced to perform any kind of entertainment, including riding.
The sanctuary also cares for two bull (male) elephants who have their own enclosures for safety reasons. This is because males tend to be more aggressive towards both humans and other elephants.
The park no longer allows visitors to bathe or touch the elephants. This is so they can behave naturally, just as they would do in the wild.
Visitors can still observe and feed them but physical interaction with the elephants has been limited for their welfare.
After all, it's not about us. It's about the elephants and what's best for them.
Helping to make a difference to more than just the elephants
By choosing to volunteer at Elephant Nature Park, you are helping to take care of the local community and all of the rescued animals. The park fees you pay fund the expensive care needed for food, vet bills and staff wages.
The sanctuary also provides jobs to local people including mahouts, chefs, tour guides and many more.
You're supporting the future of ethical animal tourism and elephant welfare in Thailand.
What to expect at Elephant Nature Park
A typical day at Elephant Nature Park begins at 7am. Volunteers head over for breakfast before starting their activities at 8am. During my experience, my group and I were lucky enough to get involved in all sorts of great things including:
Feeding the elephants
Preparing fruit and vegetables
Park maintenance
Visiting the local village school
Gardening and harvesting
Vegetarian food
All the food at Elephant Nature Park is vegetarian. If you're not veggie, don't let this put you off. All the meals are delicious and there's a huge buffet selection each day so you'll have plenty to choose from.
If you're worried about missing your own snacks, bring some with you.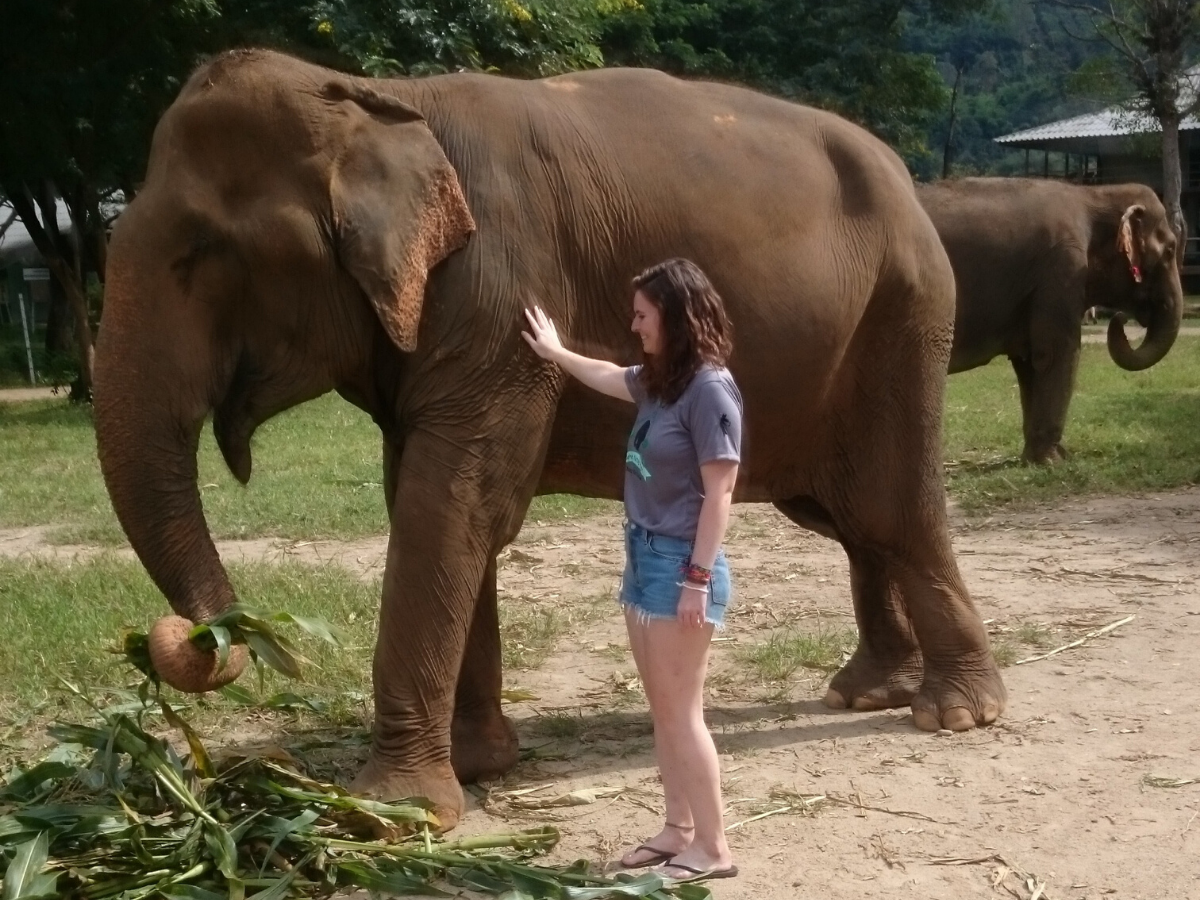 What should I bring to Elephant Nature Park?
Apart from an open mind and heart, here's what you should take with you when you visit:
A small body bag for essentials (phone, camera, sunscreen etc)
Mosquito spray
Cash
Comfortable shoes (trainers or walking shoes but NOT boots – your feet will boil in those)
Towel
Flip flops or sturdy sandals
Toiletries (if staying for more than one day)
A book (if staying longer term aka 7 days)
What should I wear?
Ideally, you're best off wearing loose clothing that's suitable for hot weather. Cotton or linen shorts / tops are good choices.
Remember that they will most likely get dusty or dirty whilst at the park so don't be too precious about them.
Depending on how long you stay, you'll do a lot of walking so ensure your shoes are comfortable and support your feet.
Also, if you're staying overnight, bring a light zip-up jumper for the evenings and early mornings when temperatures are cooler.
How much does it cost to volunteer at Elephant Nature Park?
I booked the Weekly Volunteer experience which cost 12,000 THB or roughly £309 (May 2020). It included:
Three meals per day
Standard accommodation (shared between two)
Transport to and from Chiang Mai
Internet connection
Want to know more? Check out the Elephant Nature Park website to see all their projects and prices.
More travel inspiration blogs
A Mini Guide to East Coast Australia
A Weekend Guide to Dublin – 48 Hours Itinerary
---
Pin it for later