Bored of baking? Looking for ways to use your overripe bananas? Here's a recipe with a twist! Have a go at making these easy chocolate banana pancakes. All you need is 3 ingredients and some tasty toppings of your choice.
Ready in under 10 minutes, these delicious pancakes make for an indulgent (but guilt-free) breakfast! Why not whip up a large batch and freeze them for later? Just double the ingredients and you're onto a winner!
How to make 3-ingredient chocolate banana pancakes
Ingredients | Chocolate banana pancakes
2 medium eggs
1 ripe banana (sliced)
1-2 teaspoons of cacao powder
Toppings (Optional)
1 ripe banana (sliced)
A handful of fresh raspberries
1 tablespoon of peanut butter (Pip & Nut is my favourite)
Method
Add the sliced banana, eggs and cacao powder to a blender and blend for 20-30 seconds (or until the mix has a thick batter-like consistency)
Heat a little oil in a frying pan over a medium heat
Pour in two seperate puddles of batter until each pancake is approx 4 inches across (roughly American pancake size)
Cook for 2-3 minutes or until bubbles start to appear on the top, then flip with a fish slice and cook the other side (1-2 minutes.) Repeat with remaining batter to make 2 more pancakes.
Serve the pancakes with fresh raspberries, sliced banana and a good drizzle of peanut butter.
Looking for a vegan chocolate banana pancake recipe?
It's so simple to make these delicious pancakes dairy free! Just swap the eggs out for 1 cup (100g) of rolled or instant oats and 3/4 cup (185ml) of oat milk.
Find more vegan breakfast recipes on the Simple Vegan Blog.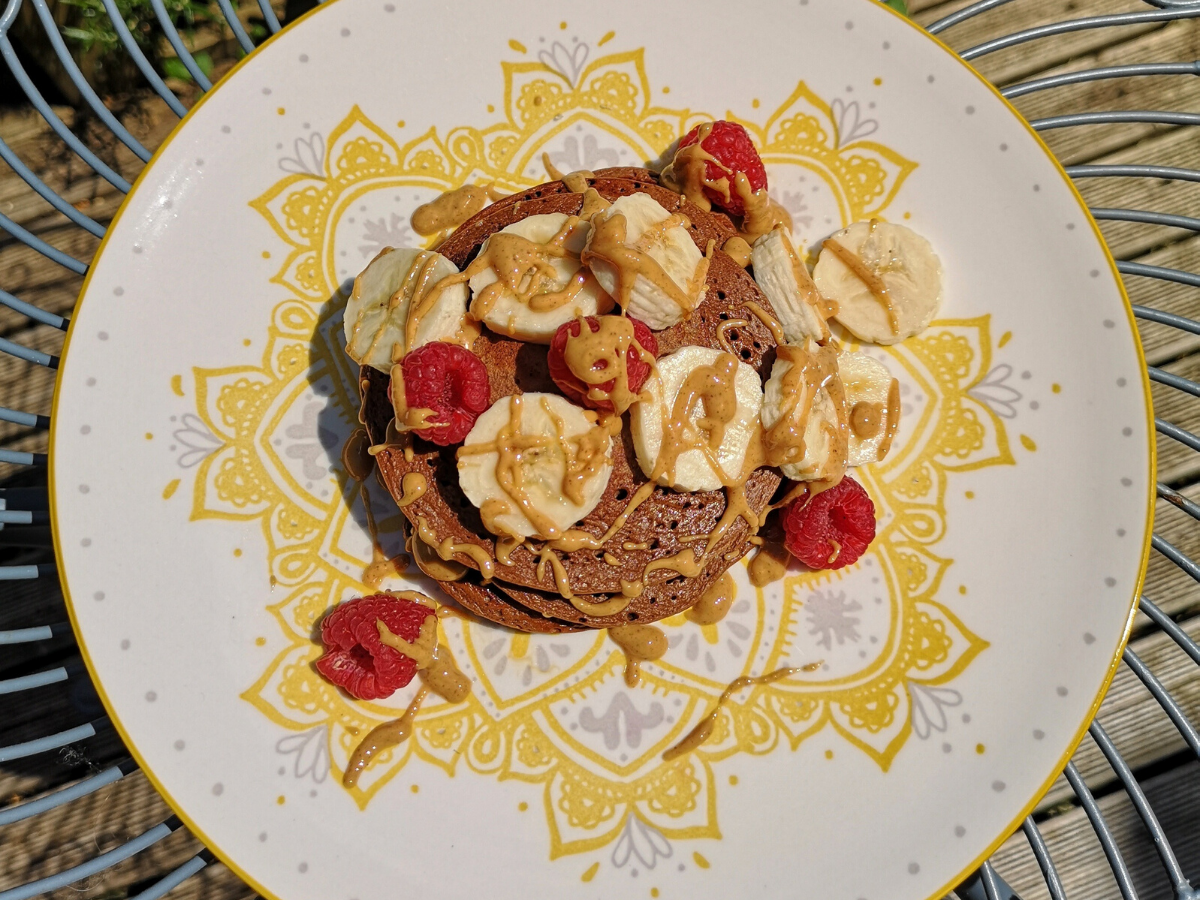 Bon Appétit! No complicated ingredients – just healthy, wholesome and easy pancakes in 10 minutes!
Going to give this recipe a try? Tag me on Instagram so I can see your creation.
More vegan and vegetarian food blogs
A Guide to Vegan Food in Warwickshire
---
Pin it for later