I've been passionate about eco-friendly living for well over a decade now but I'd be lying if I said I've never found the concept of zero waste daunting. The thing is, living a more sustainable, greener life doesn't have to mean never throwing anything away or going off-grid. In fact, it can be as simple as making a few changes to the stuff you use every day. Here are six simple zero waste bathroom swaps that you can make today to reduce your carbon footprint at home.
Disclaimer: This post may contain affiliate links. This means that if you buy something through one of these links, you won't pay a penny more but I'll receive a small commission which helps to support my humble blog and business. Thank you!
READ: 5 Tips To Reduce Your Plastic Waste
Eco-friendly Products & Swaps To Create a Zero Waste Bathroom
Zero Waste Swap 1: Eco Warrior Shaving Bar
Kick that can of shaving cream to the kerb because this little Eco Warrior bar is the best thing since smooth legs (see what I did there?) Seriously, who needs to be spending money on expensive foam that I swear lasts less than a week? This is one of my favourite zero waste bathroom swaps because 1. I didn't even know that shaving bars were a thing and 2. it works wonders. It has a moisturising blend of coconut oil and shea butter to soothe dry skin and it lathers really easily. One bar also lasts for ages – I got mine three months ago and it's still going strong.
Top tip: Dry the bar with a towel after each use and place it back in the box to help it last longer.
Unisex shaving bar
Biodegradable soap and packaging
Made from 99.8% naturally derived ingredients
Cruelty-free
Vegan
Plastic-free
Zero Waste Swap 2: Native Unearthed Deodorant Balm
A friend recommended Native Unearthed to me after I started suffering from rashes under my arms and I honestly haven't looked back since. I've done a lot of research into the chemical nasties (aka aluminium) in most antiperspirants and so it was a no-brainer swap for me. It smells great, it's effective and it's eco-friendly and ethical. The jars are made from glass (with recyclable lids) and the balm simply melts into the skin so there's no need to use loads of it. One jar has lasted me over two months and I'm still only halfway through it. All of Native Unearthed's deodorants are vegan and cruelty-free. Get this one on Amazon here.
Zero Waste Swap 3: Mooncup Menstrual Cup
Did you know that the average woman (if there is such a being) spends approximately £90 a year on sanitary products? That's a lot of money and a lot of waste technically going in the bin. I've mentioned Mooncup before in my post 5 Tips to Reduce Your Plastic Waste and I'm happily still raving about mine. Unlike regular sanitary products, Mooncup doesn't contain any toxins, bleaches, dyes or perfumes. It's made from medical-grade silicone so won't cause dryness and it holds 3x as much liquid as a tampon. No plastic, no leaks and reusable for many years. What's not to love?
Zero Waste Swap 4: Reusable Makeup Remover Pads
I'm a huge fan of cleansing, toning and moisturising but I'm not so mad about single-use cotton pads. Can anyone else relate? After all, a girl's gotta have a good skincare routine whilst trying to save the planet. So I decided it was time to break up with single-use and invest in these Greenzla Reusable Makeup Remover Pads. They're made from 100% organic (and responsibly sourced) bamboo cotton and can be popped in the washing machine between uses. This set contains 20 reusable pads and comes with a laundry bag and storage box.
READ: Eco-Friendly Gift Ideas For Valentine's Day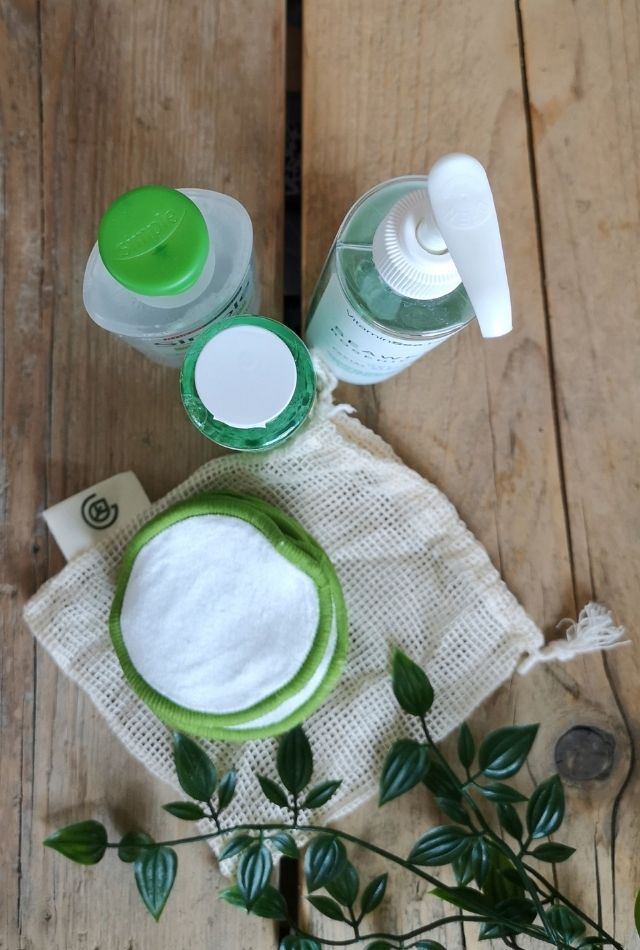 Zero Waste Swap 5: Face Halo Pad
With the government pledging to ban single-use face wipes by 2025, it's great that sustainable options like Face Halo are already becoming more popular. Sure, compostable wipes are a slightly better option but I think most of us would agree that zero waste (and saving money in the long run) is best. If like me, you have sensitive skin and prefer to use a separate face pad to remove makeup then I'd definitely recommend getting a Face Halo. All it needs is water and it takes makeup off in a matter of minutes. I love how clean it makes my skin feel and yet there's next to no effort involved – talk about a life hack. One double-sided Face Halo pad replaces up to 500 traditional wipes and it's machine washable.
Zero Waste Swap 6: Modibodi Period Pants
Let's be honest, periods are already enough of a pain (literally) without the extra added cost to the environment. Whether we use tampons or pads, there are the dodgy chemicals, plastic waste and financial burdens to worry about so it's about time we found some good alternatives.
I'll hold my hands up and say I was a little sceptical about period pants. How an earth could a pair of underwear absorb blood without leaking? Won't they be huge and just look like a nappy? I finally decided to stop guessing and ordered a pair.
Just to be clear, they are somewhat of an investment at £18+ but I justified this with how much more I've probably spent on tampons over the years. I ordered some from Modibodi after a friend recommended them to me and they didn't disappoint. Not only are they comfy AF but I can confirm they don't look (or feel) like a nappy and they work! There are many different styles and flow options to choose from so why not give them a try?
That's it, folks! What do you think? Are there any zero waste bathroom swaps you would add?
---
Pin it for later